MSP® methodologies of are very helpful for those who manage overall delivery of principles of programme management to deliver a programme on time and within budget.
It is very a flexible approach and adapts according to the needs of the situation.
MSP® Online Training includes following courses: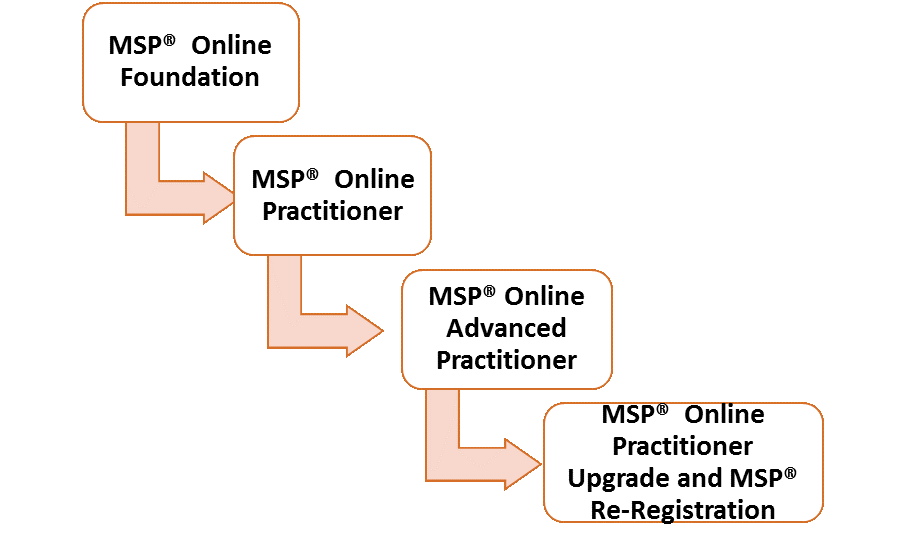 MSP® Online Foundation is the entry level of MSP® Certification. It acts as a prerequisite for next levels of MSP® training. In MSP® Online Foundation, the delegates will learn basics of MSP® and concepts and terminologies used in it.
The professionals who seek the need for controlled approach to manage programme and projects portfolio. For this, the delegates must hold MSP® Foundation Certificate.
MSP® Foundation and Practitioner Online
This course covers both the Foundation as well the Practitioner concepts in a single course.
Why should I do this course?
This MSP® Online Training is intended for those delegates or organisations who seek the need for a controlled approach to managing its programs.
Also suitable for programme managers, programme support team members, etc. from any discipline. MSP® approach is flexible and adaptable to any type and size of the programme.
What are the benefits of taking this course?
The delegates will learn how to create a vision and blueprint for transformational change. Plan and deliver the projects on time with desired quality. Effectively Break down complex projects into clearly defined smaller projects and also provide a framework for handling them.
Also, discover various roles and responsibilities of the program manager and team members. Learn the techniques that are required to manage risks and make sure the programmes respond to change.
Why choose Pentagon Training?
Pentagon Training is one of the leading MSP® Online Training providers. Our courses are delivered by highly qualified and experienced instructors who have experienced more than 5 years in the same domain. Our help and support team is always available throughout the training. We offer best course prices in the industry as we value your money.