MSP® methodologies are very helpful for those who need to manage and deliver programmes within budget and timeframe.
It is very a flexible approach that can be adapted according to various situations.
MSP® training includes the following courses: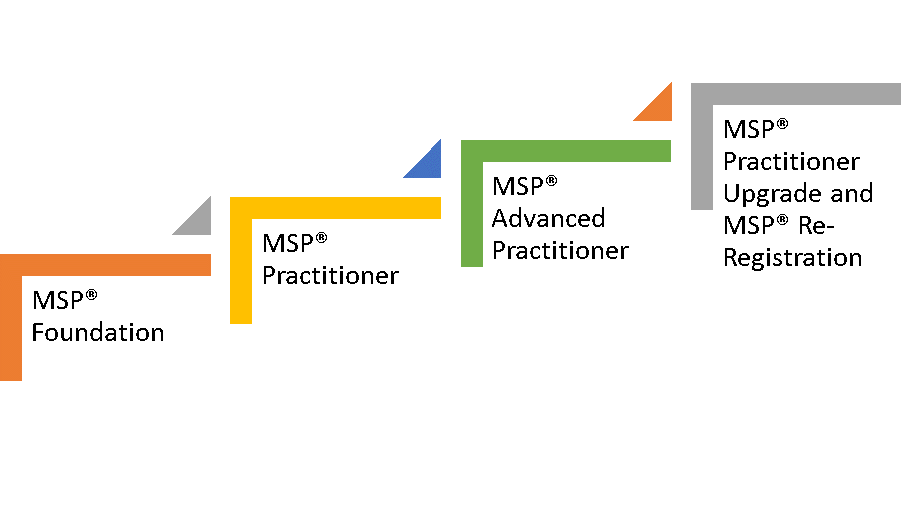 MSP® Foundation
MSP® Foundation is the entry level MSP® Certification. It is an introductory training course, which acts as a prerequisite for the more advanced MSP® training levels. In MSP® Foundation, delegates will learn about basic MSP® concepts, and the frequently used terminologies.
MSP® Practitioner
MSP® Practitioner is for professionals who see the need for controlled approaches to the management of programmes, projects, and portfolios. To undergo this training course, delegates must hold the MSP® Foundation certificate.
MSP® Advanced Practitioner is for professionals who are MSP® Practitioner certified and want to upgrade their skills to an advanced level.
Pentagon Training also provides the MSP® Re-Registration.
This training course exists to ensure delegates knowledge of MSP® remains up-to-date and revised.
Why should I attend a MSP® training course?
MSP® training is intended for those delegates or organisations who seek a controlled approach to programme management.
The MSP® approach is flexible and adaptable to any programme type or size.
What are the benefits of taking MSP® courses?
Learn how to create a vision and blueprint for transformational change.
Plan and deliver the projects on time with desired quality.
Effectively breakdown complex projects into clearly defined smaller projects and also provide a framework for handling them.
Discover the various roles and responsibilities of the programme manager and team members.
Learn the techniques that are required to manage risks and make sure the programmes respond to change.